The Internal Quality Assurance Cell (IQAC) of Yemhi Memorial College, Dimapur organised a one day workshop on the topic "Sensitization and Familiarization of NAAC Accreditation Process" on 24th June, 2019. The resource speakers for the day were the IQAC team from Dimapur Government College – Dr. Vitsosie Vupru, Dr. T. Jamedi Longkumer and Mr. Ashok Kumar Jain. MGM College and Cornerstone College were participants of the workshop along with the host college. Mr. Toyeto Chishi, Coordinator, IQAC, YMC chaired the programme and also delivered the welcome address. Mr. Makhan Chetia, Principal, YMC gave a brief introduction of the resource persons.
The workshop session started with Dr. Vitsosie Vupru, IQAC Coordinator, Dimapur Government College highlighting on the new NAAC Accreditation guidelines and the 7 criterions that is used by UGC to assess institutions. Dr. T. Jamedi Longkumer, on the other hand through a power point presentation highlighted on the different formats and methods used by the college to keep a record on students' academic performance within the college as well as in comparison to the university combined results over their course of study. He also shared the difficulties faced by the college with regard to maintaining consistent high grades even for bright students as compared to students from other colleges, one reason being lower internal marks. Mr. Ashok Kumar Jain, Head Accountant, DGC gave a brief presentation on how to maintain files and accounts properly so that there is accountability in any work carried out and also for the purpose of documentation.
The programme ended with a vote of thanks delivered by Mr. Kossam Konyak, Assistant Professor, Department of Education, YMC.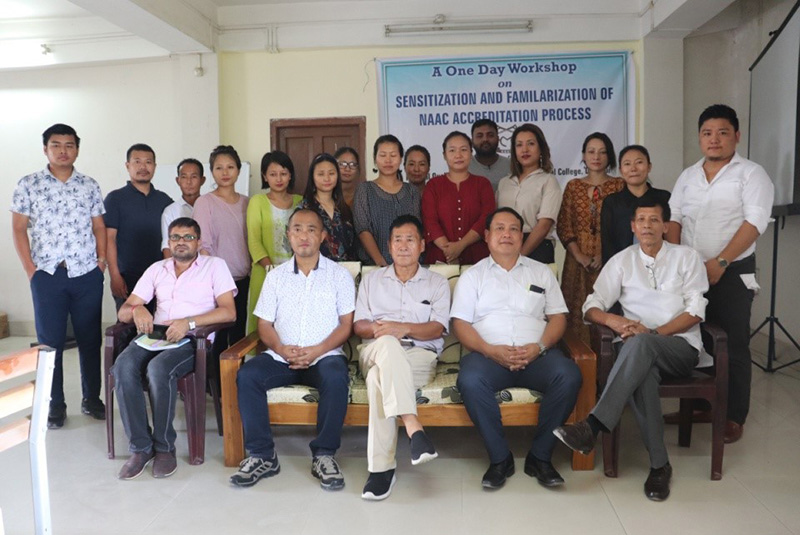 (Toyeto Chishi)
Coordinator, IQAC
YMC